Caspian proclaimed that they have waited 10 years to come down to Australia. In no small way, those of us Sheathers in Australia who have been here since day one, have also, been waiting those long 10 years. Well, last night for me, was the culmination of that decade.
The venue? The upstairs room of a Valley pub. The sound was surprisingly good. I wasnt expecting it to be as crisp, for the levels to be on the money, to have each instrument where it should be in the mix, but yes, I have to say the sound was spot on.
The bands? 3 bands, including our wonderful Caspian. Openers 'Hope Drone' are a local black metal band. They liberally douse their BM base with post-rock and -metal influences, but it always comes back to the blast beats. I do like the current neuvo BM sound and Hope Drone do it pretty well. They have their debut on vinyl, so if you like the new BM, these guys you should twist yr ear to. 'Meniscus' is the main support for Caspian for their Australian tour. 3 piece post-rock band (although, I think there is a 4th member in the family). Beautiful, driving post-rock with nods to our GFE, electric post-rockers like Exxasens and the like. Solid rhythm section, drummer with very soft hands and a guitarist that goes OFF when its time for offing.
When I go to see bands that I really love, I tend to not be concerned with minutiae like set-list compositions, the subtle nuances of a set; I just lose myself in the sounds. I know that Caspian played from Four Trees, Tertia and Waking Season, but I was completely lost in the mesmer so I cant recall the exact set for you. Suffice to say, it was astonishing, a religious experience for those of us without 'faith'. Total mesmerising. Utterly brilliant.
The crowd? Brisbane at times, tends to fail international touring bands with their lacklustre and limp crowds. Unfortunately, last night, Brisbane continued that trend. A band of the magnitude of Caspian, a band that is the benchmark of the genre at the moment, could not gain a remotely close to full room. There was me, going off to the back and right of centre, but otherwise it was a room half-full of nodding heads and not a lot more. Plenty of room between punters to swing cats. Sure, as the set wore on, the crowd grew more and more rapturous in their applause and cheering at the end of songs, but the silence was deafening at times. Its little wonder promoters and bands stay clear of Brisbane.
Saying all that, did Caspian give up? Did they let the non-crowd harsh their vibe? Not a fucking chance. Those guys were ELECTRIC. Considering the momentous tour over half the planet that are currently on, they lit up the place like the stars they fucking are.
Stayed back after the set to chinwag and do the 'groupie' 'can-you-sign-my-records-please' beg. In the end, my 2 fellow post-rock peeps and I spent probably a good 2 hours talking and hamming it up with the lads. They did sign my records. They were extra-ordinarily friendly, considering how goddamn tired they were, they gave their sleep time to talk to us plebs and shoot the shit. There's nothing I can say that can adequately represent the bromance I have for these men. Had good long chats with all the lads, so open and friendly.
Even got a photo with Phil, who dedicated my OG Four Trees to my daughter. No finer individual will ever be found. A heart as deep as the Marianas. My daughter will know one day the meaning of this kinda thing. At the moment, shes pretty stoked that someone else she doesn't know gave a lovely caring dedication permanently emblazoned on our record. Phil, your words will remain.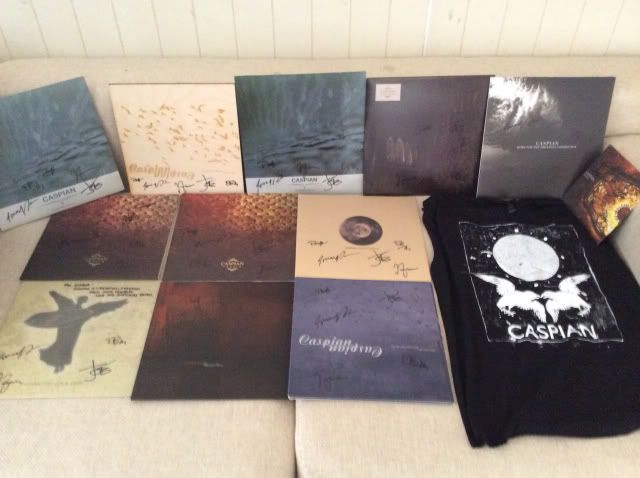 Its not often I go to a gig and walk out with these feelings of fuzziness, but the music, the people, the situation is pure love. Caspian promised to tour again, and to make it a bigger, better deal with more shows in smaller places. I hope they give plenty of notice so I can try to follow them around this great land of ours.